HOW MUCH CAN SAVING

NOW SAVE YOU LATER?

A lot more than you might think.
Saving even a small contribution each month costs much less than borrowing all of what you will need when the time comes. Consider these hypothetical scenarios:
Scenario 1: Terry's parents start investing $100 a month into a 529 plan account right after Terry's birth. In 18 years (assuming a 5% annual rate of return), they could potentially save more than $35,000.1
Scenario 2: After exhausting federal student aid options, Terry has to borrow $35,000 to attend college. Based on a private student loan rate of 7.0 percent, Terry could be faced with a monthly payment of $406 for 10 years (or $48,720).2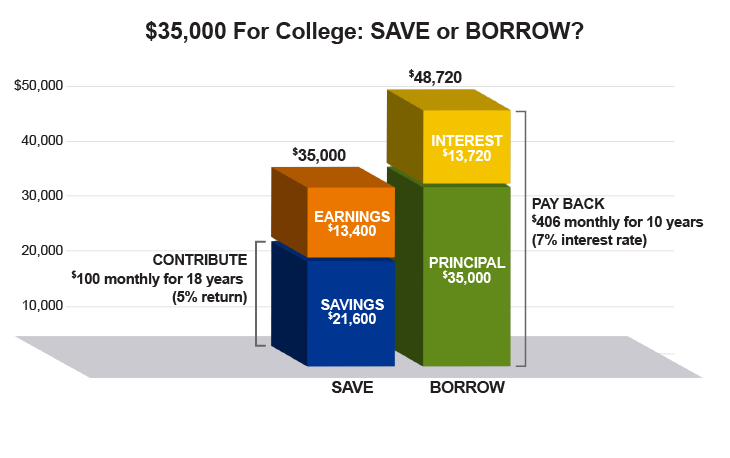 Then there are the effects you can not put a price on.
Paying back significant student loans can also impact graduates in places other than the wallet:
43% of student borrowers say that college debt has forced them to delay starting a family.3
42% say college loans cause them to put off major purchases, like a home or car.4
College education: A lifetime of value.
Bachelor's degree recipients ages 25 to 34 had median earnings 63% ($19,550) higher than those in the same age range with high school diplomas in 2018.
The median family income for those with a Bachelor's degree or higher earned 52% more than those with a high school education, and those with an Associate's degree had median earnings that were 26% higher than the high school average.5