FIRST, WHAT IS A 529 PLAN?
It is a simple way for parents and grandparents to save money for college or post-secondary vocational school. The DC College Savings Plan is sponsored by the Government of the District of Columbia.
What can you use a 529 plan to pay for?
Tuition
Room and board
Computers and laptops
Books and other tools, if required by the school.1
K-12 tuition expenses at a private, public or parochial school (up to $10,000 per year per student.) For more info, click here
These are considered qualified expenses, so withdrawals to pay for such items can be made tax-free.1
Are there other special advantages of a 529 Plan?
Plenty, including:
Special tax deductions for DC taxpayers2
Tax-deferred investment growth
Gift- and estate-tax benefits
Low investment fees, and more.
Where can you use your 529 savings?
Money from a DC College Savings Plan can be used for qualified expenses at eligible colleges, universities and vocational schools worldwide, not just in DC.3
What makes a 529 plan so different?
Unlike taxable college savings vehicles, 529 contributions grow free of federal and District taxes.1 The difference can be significant, as shown in the chart below.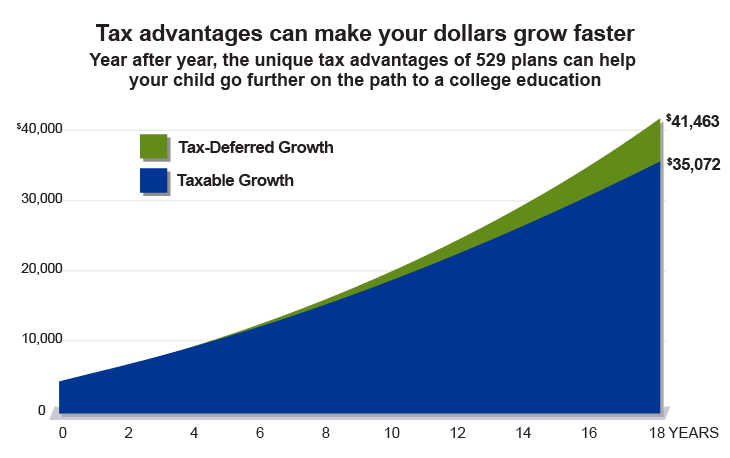 If you open a 529 account with an initial investment of $2,500 and contributed $100 every month for 18 years, there could be over $6,300 more for a qualified distribution than the same investment in a taxable account.1