10 FACTS AND HACKS ABOUT

SAVING FOR EDUCATION
Improving your financial literacy can help with everything from managing your weekly budget to saving for far-off goals. Here are 10 things every parent (and grandparent) should know about saving for a loved one's education.

1. Higher education is still a great investment.
Is saving for education a sound investment? Absolutely! And the advantages go way beyond just higher income. Today, two-thirds of all job openings require postsecondary education, and college grads, on average, enjoy 57% more job opportunities than those with just a high school degree.1

2. 529 plans are an easy way to save a little at a time.
The DC College Savings Plan, like other 529 plans, helps make higher education more affordable. Families can save in small amounts over time, and as their children grow, their 529 savings could potentially grow free of state and federal taxes.4
3. Anyone can open a DC College Savings account.
Anyone5 - parents, grandparents, family friends – can open a 529 account for a loved one. There are no income limits, and anyone can contribute.
4. There is a lot more to higher education than just college – or tuition.
Use a 529 account to save for tuition, room & board, books, fees, computers and more at eligible colleges, universities, vocational schools and apprenticeship programs worldwide, not just in DC.6 You can even use it for K-12 tuition7 and to repay student loans.8
5. Saving in a DC College Savings Plan account can help you
save on your taxes.
That is because District taxpayers can receive a tax deduction up to $8,000 (up to $4,000, if filing individually) when they contribute to an account.9
6. 529s have minimal impact on financial aid.
No more than 5.64% of a 529 account balance is reported on the FAFSA when granting financial aid, provided the 529 is a parental asset.
7. 529 savings is not "use it or lose it."
Things change. Life happens. With a DC College Savings Plan, you have options. Transfer an account's balance to an immediate family member or yourself, or withdraw the money and pay tax on just the earnings portion and a 10% penalty.4
8. Making gifts to a 529 account is easy with Ugift®.
Do your kids really need another toy or teddy bear? Instead, ask friends and family to help save for their education at birthdays and holidays.
9. Every dollar saved means one less dollar you may have to
borrow and pay back with interest.
Saving for education beats borrowing for it every time, as the chart below shows:10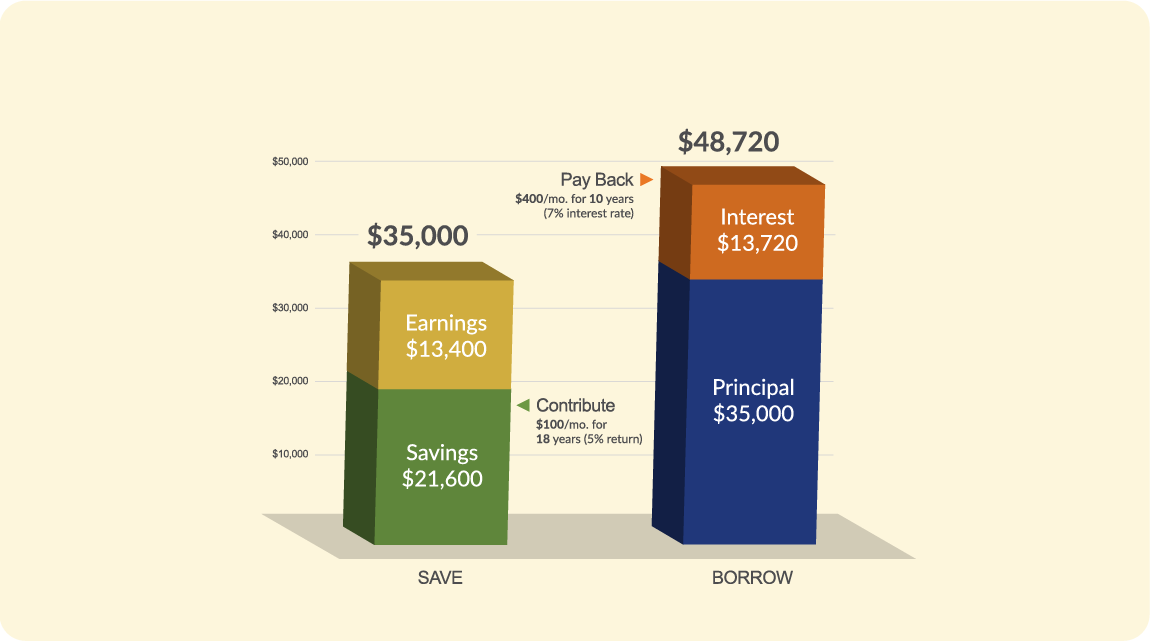 10. It only takes $25 and a few minutes to start.
Make every day work for your savings, starting today. Get started now.
Want to hear more about the DC College Savings Plan? Connect with us now